Solar Rooftop EPC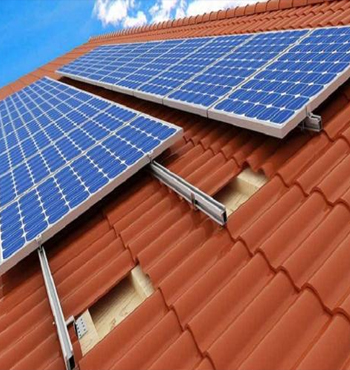 Rooftop Solar power plants are increasingly gaining popularity across a wide range of industrial, commercial and residential sectors due to relatively lower cost of investments and lesser complexities involved in setting up a plant. Several favourable government initiatives like subsidies and net metering policies are giving rise to a demand for rooftop solar projects in India. Jakson is amongst the top solar rooftop EPC players in India with a portfolio exceeding 40+MW. We possess years of expertise and in-house engineering capabilities to build innovative rooftop solar power plants of all sizes – from a few Kilowatts to Megawatts depending on customer requirements. Our rooftop solar EPC portfolio comprises several renowned projects that include the President's Estate (Rashtrapati Bhawan) in India, solar rooftop on coaches of India Railways, Airports in Varanasi & Raipur and Delhi Metro Rail Corporation, India. Our solar train project for Indian Railways has been recognized globally for its innovative design and engineering.
Scope of Services
Design
Cost Estimation
Architectural Design
Feasibility Studies
Regulatory Permissions
Technology & Infrastructure
Construction
Workforce Management
Civil Works
Equipment Supply
Iron Fabrications
Site Safety
Engineering & Procurement
Front-end Engineering
Safety Planning
Raw Material Purchase
Vendor Sourcing
Quality Controls
Commissioning & O&M
Trial Runs
Certifications
Grid Connections
Safety Protocols
Preventive Maintenance
Scope of Services
Why Inter Power Gentech is one of the Top Rooftop Solar Companies in India
From HCST, Mathura to Rama University in Hapur and Anand Engineering College in Agra, Jakson Group has provided numerous solar rooftop solutions for the betterment of the energy infrastructure of government and non-government projects. With years of experience under the belt, superior technical know-how and a whole lot of skilled and dedicated workforce, Jakson Group has emerged as one of the top rooftop solar companies in India.
With the emerging need for credible and effective rooftop solar solutions for sustainable energy production, the Jakson Group has put in a lot of its resources in this industry to enable the clients, end customers, and stakeholders in the best way possible. As one of the top rooftop solar companies of the nation, Jakson Group extends its services to different verticals and from large scale energy requirements to even residential projects. With the idea of enabling the clients in the best way possible, Jakson ensures quick completion of projects and specializes in reducing operating expenses with the innovative solar rooftop EPC solutions. For organizations having large scale requirements, a proper assessment is conducted pertaining to the requirement, space availability and savings the rooftop solar installations can yield. As a reputed solar rooftop company in India, Jakson makes sure to provide the best solutions with optimum utilization of the budget.