POWERGEN & DISTRIBUTION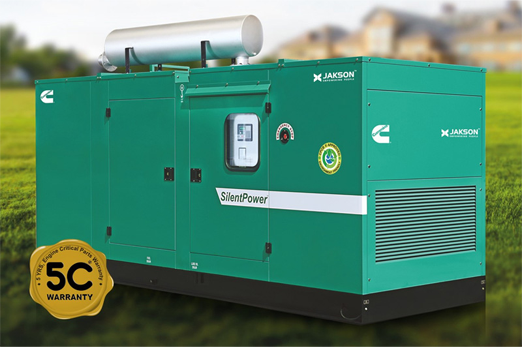 Inter Power Gentech & Distribution Business comprises manufacture and sale of Cummins powered diesel generators, construction and maintenance of captive diesel genset power plants, Cummins parts distribution & service and training of engineers through a one-of-its-kind training facility in India. We offer integrated solutions, right from individual retail diesel generator sets to design and execution of diesel genset power plants, all backed by an unparalleled service support. We have the expertise to successfully meet the power requirements of a wide range of individual and institutional customers and have years of demonstrable experience in successfully executing several mid-to-large scale diesel power plant projects for customers across industries.

With its unmatched product portfolio of diesel generators that range from 7.5 KVA to 3750 KVA, Jakson-Cummins has close to 50% market in the territories it operates in. Its leadership position is strengthened by an efficient after sales network encompassing 22 Sales Offices, 2 service centers, 13 service outlets and a wide network of channel partners and dealers in India and Nepal. Jakson boasts of best-in-class machinery and a truly global approach to manufacturing that ensures the highest quality for its customers. Through the efforts of a highly skilled workforce and our emphasis on rigorous quality testing, our products adhere to the strictest quality and performance standards and deliver an unparalleled experience.
Manufacturing Plants
Jakson is a pioneer of the diesel genset manufacturing industry in India. The company inaugurated its first manufacturing facility in 1979 at Mayapuri Industrial Area in Delhi with an annual capacity of 60 DG sets. As business grew, the company expanded its manufacturing footprint by establishing new plants in Greater Noida and Daman. Its Daman plant was one of the most advanced diesel genset manufacturing units in the country during the early 2000s. To keep up with growing demand for its gensets, the company consolidated its DG set manufacturing facilities and today has 3 state-of-the-art manufacturing plants located in Kathua and Kalsar.
Kalsar Plant: Jakson manufacturing plant in Kalsar, Gujarat was established in the year 2011 and serves as an integrated plant for manufacturing acoustic enclosures and diesel generators. The plant has an installed capacity of 11000 generators and 35,000 enclosures annually. It has a total manufacturing space of 3.5 lakh square feet and is spread across 17 acres.
Kathua Plant: Jakson has two manufacturing plants in Kathua, Jammu & Kashmir. These integrated plants are amongst the largest manufacturing facilities in the region and offers employment to hundreds of local youths that has led to considerable economic growth and prosperity of the region. The unit is equipped with state-of-the-art infrastructure to cater to the increasing domestic requirement of DG Sets. The plant is built over 7 acres and has an annual capacity of 2000 gensets.