Cummins Diesel Gensets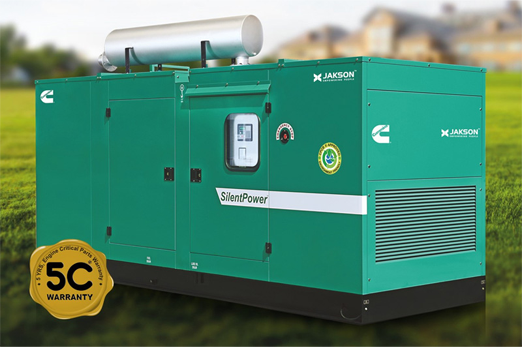 Inter Power Gentech & Distribution Business comprises manufacture and sale of Cummins powered diesel generators, construction and maintenance of captive diesel genset power plants, Cummins parts distribution & service and training of engineers through a one-of-its-kind training facility in India. We offer integrated solutions, right from individual retail diesel generator sets to design and execution of diesel genset power plants, all backed by an unparalleled service support. We have the expertise to successfully meet the power requirements of a wide range of individual and institutional customers and have years of demonstrable experience in successfully executing several mid-to-large scale diesel power plant projects for customers across industries.

With its unmatched product portfolio of diesel generators that range from 7.5 KVA to 3750 KVA, Jakson-Cummins has close to 50% market in the territories it operates in. Its leadership position is strengthened by an efficient after sales network encompassing 22 Sales Offices, 2 service centers, 13 service outlets and a wide network of channel partners and dealers in India and Nepal. Jakson boasts of best-in-class machinery and a truly global approach to manufacturing that ensures the highest quality for its customers. Through the efforts of a highly skilled workforce and our emphasis on rigorous quality testing, our products adhere to the strictest quality and performance standards and deliver an unparalleled experience.
Inter Power Gentech - enabling organizations wth reliable power back-up solutions
Inter Power Gentech, as one of the top Diesel Genset Manufacturers of the country, has over the years enabled many organizations with reliable and efficient power back-up solutions. With a comprehensive range of Cummins powered diesel generators ranging from 7.5 kVA to 3750 kVA in a single node, Jakson can efficiently meet the diverse energy needs of industrial, commercial and individual customers.
MSN Hyderabad is one of India's leading pharmaceutical companies with state-of-the-art manufacturing facilities. Owing to the nature of the industry, the manufacturing plant requires reliable power back up solution for the smooth functioning of the entire facility. Jakson Group, chosen as the preferred partner in due to its superior technology, the experience of handling complex diesel power installations, provided complete turnkey services for this project that included design, supply, testing & commissioning of multiple gensets of various ranges.
Maruti Cements Ltd. (MCL) is one of the biggest private-sector cement plants with the capacity of manufacturing 2000 tonnes of cement per day. Jakson, with its experience of handling similar projects before, offered Maruti Cement Ltd. an effective power back-up solution with 5 nos of DG sets totaling to 10 MVA.
ITC Hotels is India's second-largest hotel chain with over 100 hotels. For their upcoming project, the ITC Royal Bengal Hotel - a 456-key hotel that would be among the tallest buildings of Kolkata, Jakson gensets have been set-up to provide emergency power backup for their whole operations during a power failure. The scope of work included design, supply, and installation of Gensets.